Download Student Login Details
Each Student will need their Student Login Details to log into the Test Lobby to complete the tests that have been allocated to them.
Rather than using usernames, email addresses or passwords to log into the Test Lobby, Students will need to use a unique 8-digit code.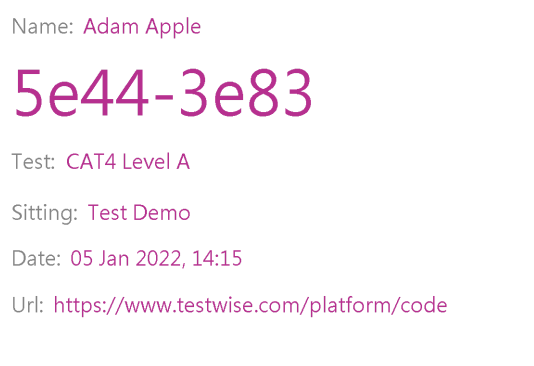 Student Login Details include the following information about each student:
Name - The Student's Name
Student Access Code - A unique 8-digit code that is generated for each Student and Sitting. You can also view each Student's Access Code by monitoring Student progress.
Sitting Name - The name of the Sitting.
Date - The earliest date and time at which the test can begin. This is the 'From date' and time of the Test Start Period.
Test(s) - The name(s) of the test(s) which the Student will be completing.
URL - The web address where Students can log into the Test Lobby.
Once you have created a Sitting, you can download, save or print a PDF or CSV file containing the Student Login Details for all the students in that Sitting. The PDF file is created in A4 landscape format and contains multiple Student Login Details on each page. If you print the Student Login Details, you can then divide the A4 sheet into sections and distribute the login details to each individual student. The CSV file contains the access codes and student details in a table format.
After a student has received their Student Login Details, the Test Start Period has begun, the test has started in Testwise (automatically or manually), the student can log into the Test Lobby, click the Start Test button and begin answering questions. 
Note: You can only download Student Access Details for sittings that have a status of 'Live'. You cannot download Student Access Details for sittings whose status is 'Draft', 'Expired', 'Closed' or 'Completed'.
To download student login details
1. Click the Sittings button

from the home screen. All existing Sittings are displayed within the Sittings List.
2. Find the Sitting that contains the Student Login Details that you want to download.
3. Click the Actions button

displayed next to the Sitting Name. The Edit and Download Access Codes buttons will appear, overlapping the Sitting Name in the first column.
4. Click the Download Access Code PDF button

 or Download Access Code CSV button

to download the Student Login Details for the selected Sitting.
5. Depending on the chosen download format, you can open or save the PDF or CSV file, as suggested by your web browser. The PDF file containing your Student Login Details will look similar to the example below: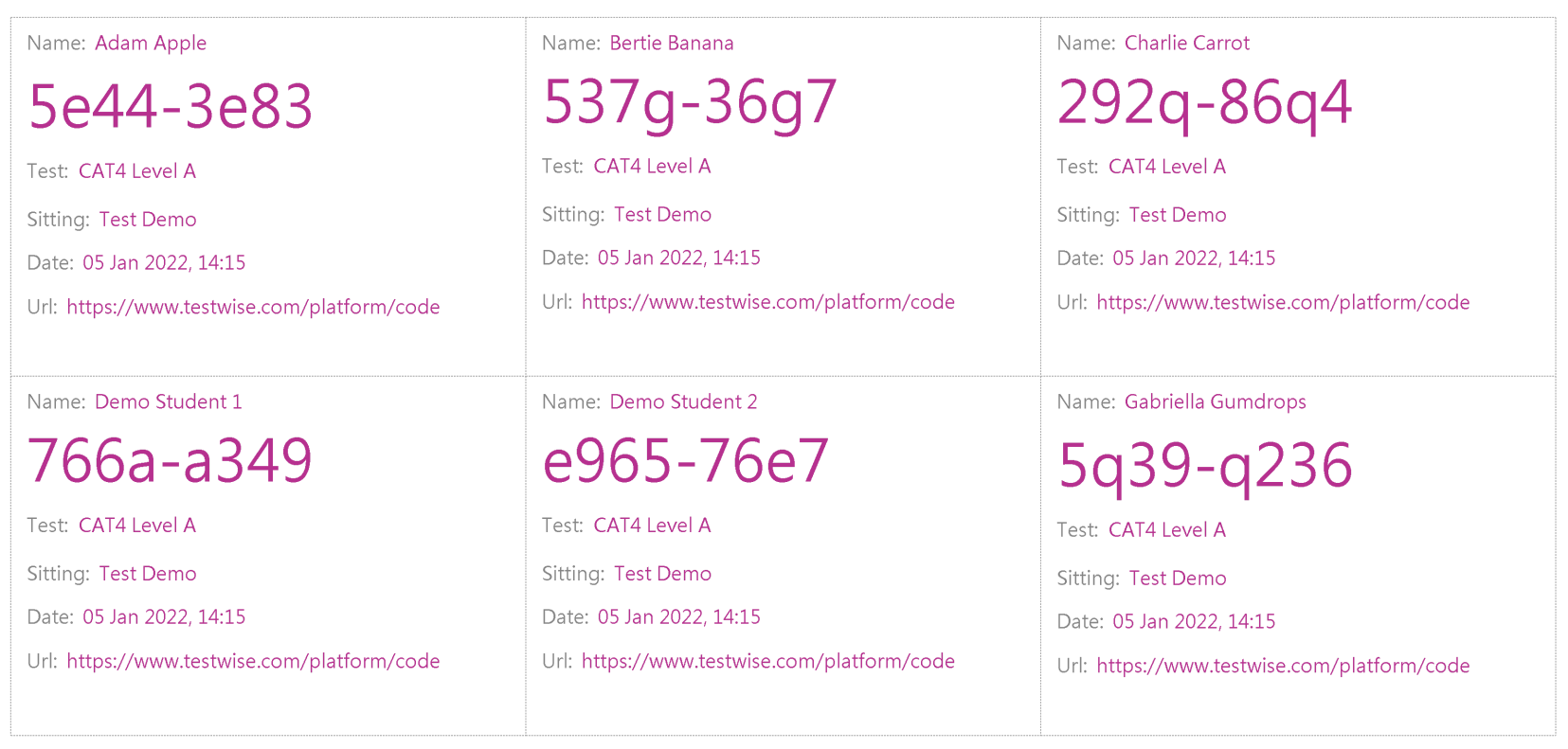 The CSV file will have a table format similar to the example below:

6. You can either save this file, if you have not already done so, or print it.
7. Close the PDF or CSV file when you have finished working with it and exit the software that was used to display the file.