Troubleshooting
Minimum system requirements
To use GL Ready effectively, you should ensure you are running it on software and hardware that fulfils our minimum system requirements available in Downloads.
What browsers does GL Ready support?
D

evice

Operating System

Browser

Browser version

Desktop PC / Laptop (non-touchscreen)

Windows 10

Apple MAC

iOS

Chrome

80

Apple iPad

iOS

Safari**

13.3

Android tablet

 

Chrome

80
Tablet and touch screen device compatible products
All subtests on GL Ready can be taken on a tablet device, using either iOS or android operating systems, or on a touch screen device using the normal pupil login page:
Please note: Our comprehensive testing processes ensure compatibility with the majority of major touch devices, however due to the number and variety of devices constantly being released to market there may be some minor issues experienced on emerging devices. If you experience any issues please advise our technical support team accordingly. ([email protected])
Screen resolutions
Purpose

User Type

Screen Resolution

Manage school

Manage students

Teacher role

1366x768 (100% zoom)

Take tests

Student
 1024x768 (100% zoom)
File types
The following file types should be allowed to be downloaded: .
.mp3
.swf
.png
.js
.csv
.zip
Whitelisting
Any firewall, content or proxy filtering done at the school must be allowed access to the following URLs:
https://glready.com/
https://glready.com/login
https://glready.com/password/reset
https://glready.com/students
https://glready.com/student/assignment
http://www.glreadysupport.com/
Pop-up blockers
Please ensure pop-up blockers are disabled for GL Ready.
*https://glready.com/
System checklist
System checklist available in Downloads .
If you still have problems please contact Technical Support:
+44 (0)330 123 5375, option 2 or [email protected].
Test preparation
The ideal testing environment is one that is reasonably quiet, with minimal distractions. Visual and auditory distraction should be minimised. To minimise auditory distraction, headphones are recommended.
The supervisor should check that the screen is clear and its colours correct, the sound (using speakers or headphones) is audible (not too loud or too soft, and without interference), and if using a mouse, that it is functioning correctly and is positioned in front of the student on a suitable surface so that its movements are unimpeded.
Diagnostic tool
Before administering any of the products on GL Ready to students, you should run the Diagnostic Tool on every machine you intend to use for testing to ensure that it is appropriately set up. We recommend you do this while logged in to the machine with a student profile.
The Diagnostic Tool is available from www.glready.com/student and www.glready.com/student/login.
Click on Check now and you will be taken to the Diagnostic Tool start page.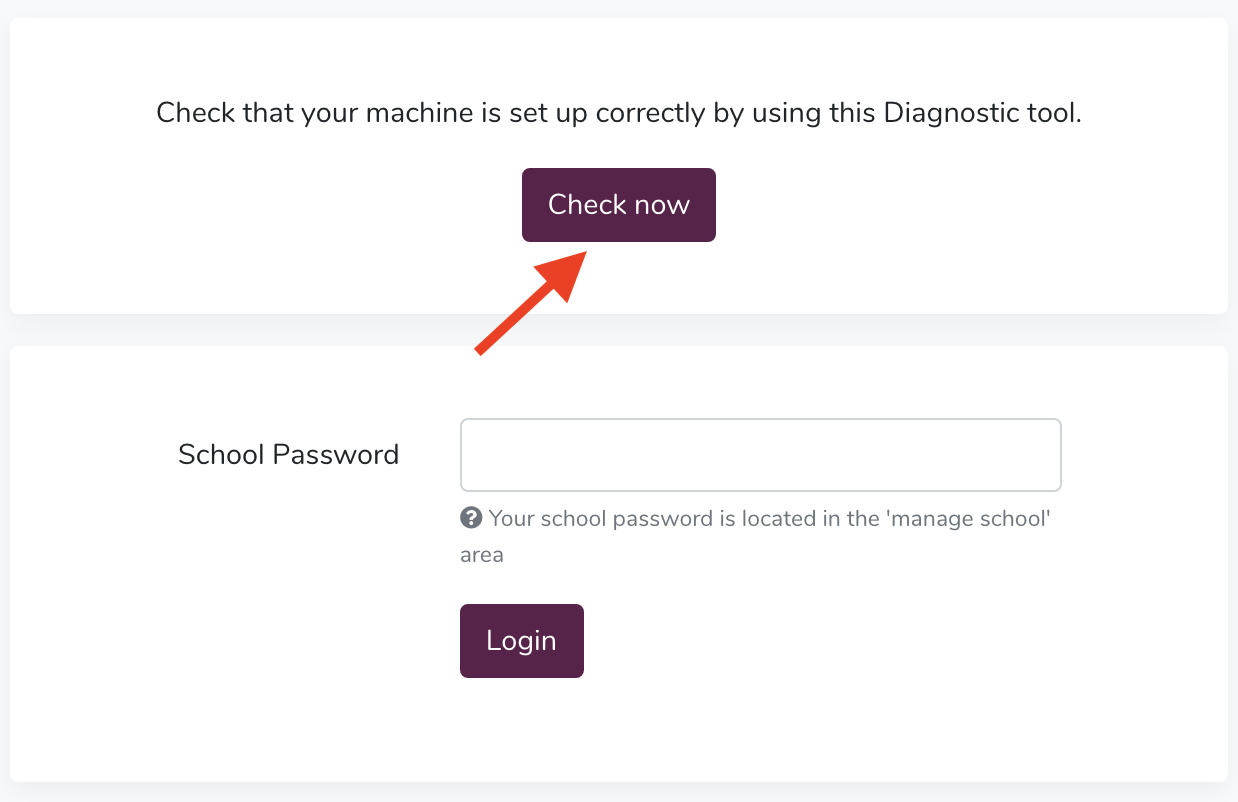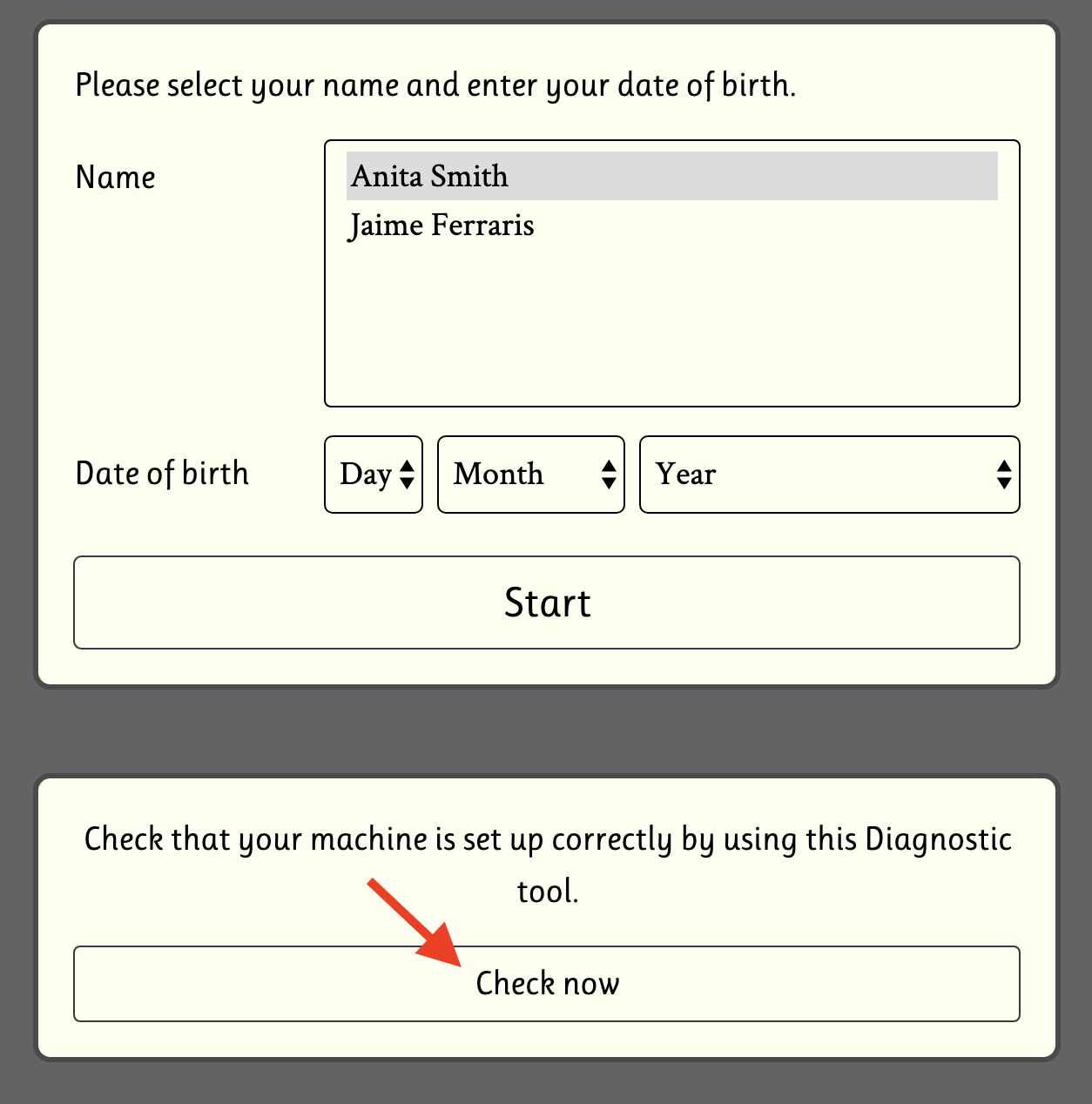 Click on Go and this will launch the Diagnostic Tool on your machine.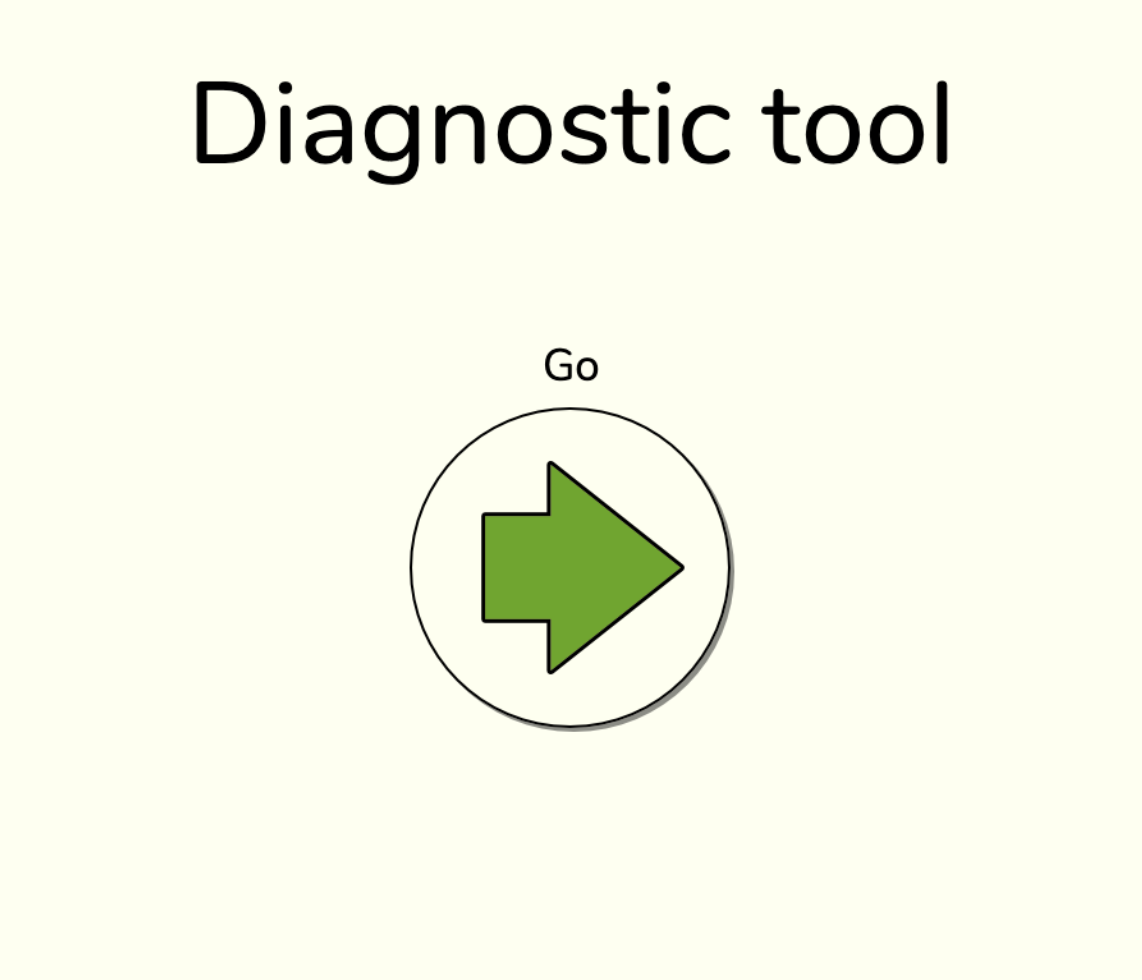 Carefully follow the instructions and questions on the screen.
If the Diagnostic Tool has highlighted problems with downloading audio and image files, please make sure you check the following:
You have a good internet connection and sufficient bandwidth (you can check this by running

 

https://www.speedtest.net

 

).
Your school's network is not blocking MP3 files or filtering content.
The computer is not blocking MP3 files.
Your school's network is not filtering content.
The computer is not blocking image content.
Please note, colours may vary from screen to screen. This is due to the fact that every computer monitor has a different capability to display colours. If there is a marked difference, please ensure you have turned off night mode. Your IT department should be able to help you with this.