Testwise upgrade 2021
We've introduced new features to save you time and improve reporting. Here's everything you need to know.
Saving you time
1. Setting up a sitting
We've simplified how you set up a sitting so now all the information you need to fill in is on one, easy-to-complete page.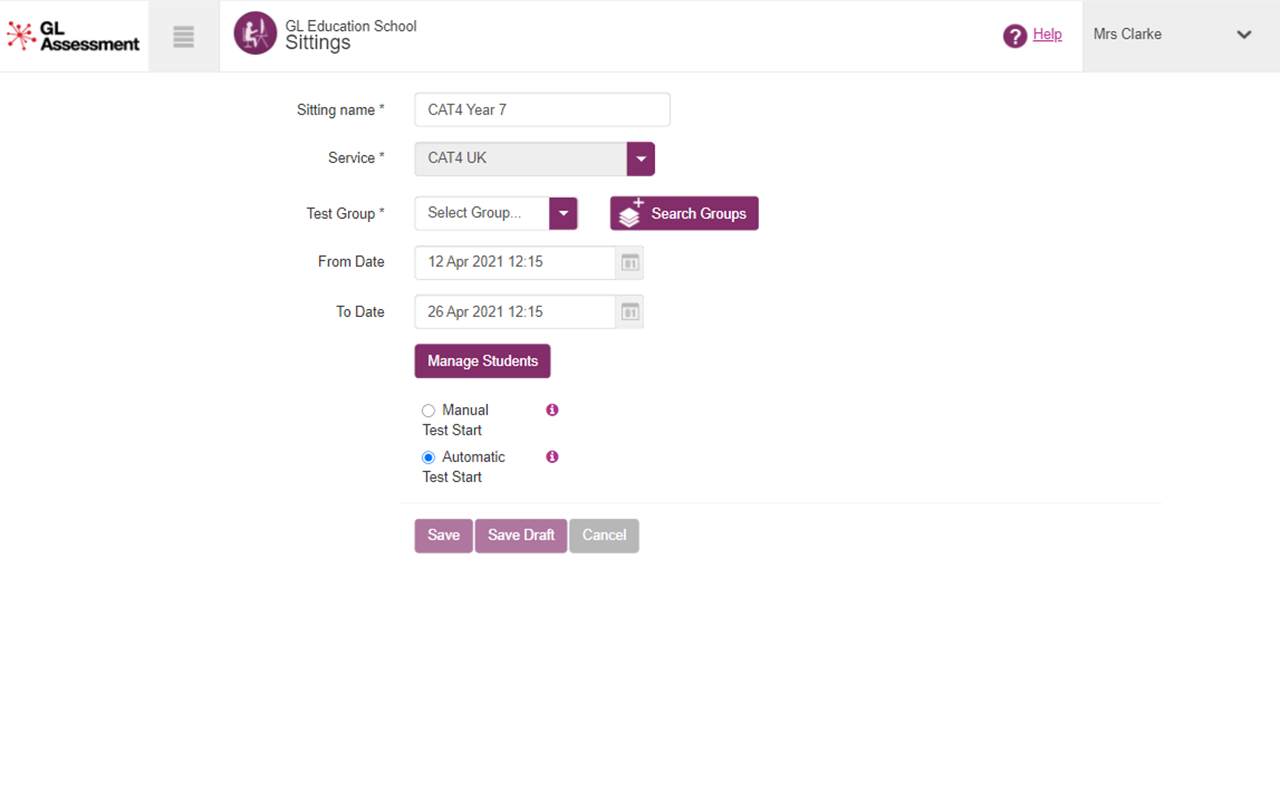 2. Accessing your reports
We've streamlined the reporting section, enabling you to quickly run new reports or Excel requests and view past data all in one area, bespoke to you. You can easily choose between a standard report or combination report (if you have more than one compatible assessment).

3. Choosing the filters that are right for your school
Flexible date range selector
Reports are no longer divided by academic year, meaning that you will be able to run historical reports at any time. So if a teacher or a parent asks to see a student's CAT4 report from 2018, for example, you can deliver it within minutes.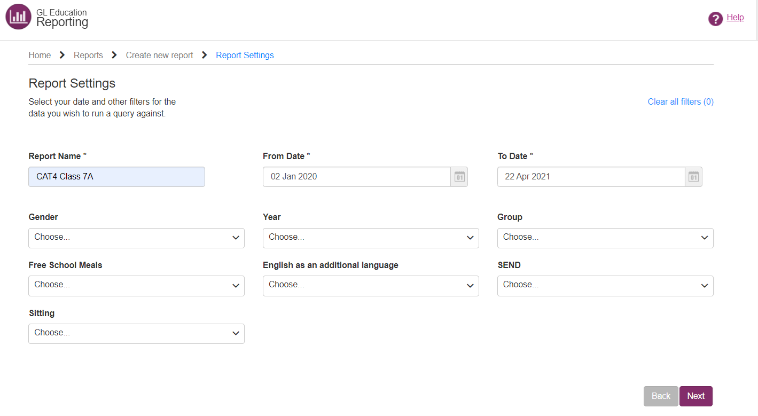 Personalised filters
We know that every school is different, so we don't want to take a one size fits all approach on Testwise. That's why, when you create a report, you will now see filters which are applicable to you and your students. Using these filters, you will then be able to create bespoke reports for different groups of students in your school.

New online reporting
1. View all your students' reports online
We've moved all reporting online, making it much easier for you to access your students' data.
You can simply click on a student's name to expand and see all their data in front of you, and you can also sort your class or year group by key characteristics (such as gender or SEND) or by their results in order to help identify intervention groups based on individual scores.
(If you still want to access your reports as a PDF, that option remains available, too)

2. Focus on the data that will help you most
We want you to be able to focus on the data that most interests you. That's why we've introduced interactive filters which enable you to drill down to group or even individual student level.
See, for example, the CAT4 group report on the right, where students' results are displayed on a scatter graph. By hovering over any of the dots in this CAT4 report, you can see an individual student's name, SAS scores, and how they compare to other students in the year.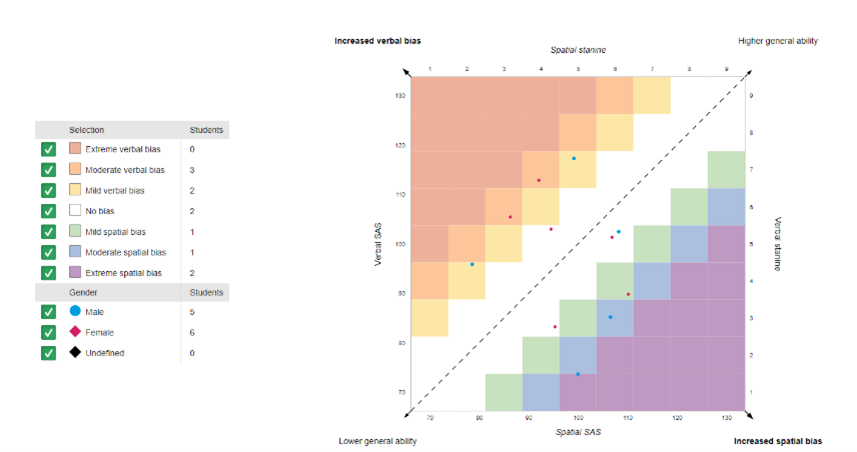 The filters on the left-hand side enable you to focus in on specific student groups and you can use this to identify students who share similar profiles - for example, all students in a year with an extreme spatial bias.
Similarly if you're using PASS, your data will now be much more granular. In the example below, you can hover over any of the questions in the reports to clearly see which question your students were answering. This then enables intervention to be much more targeted to particular issues that may be holding a whole class or year group back, for example improving teacher feedback and encouragement as shown in the chart.

Improvements for school groups
1. See all your schools' data at once
Whether you are responsible for a Trust in the UK or an international school group, the ability to see an overview of all your schools at the same time is extremely powerful. We're very excited to have launched a dashboard which enables you to either view a single school or view all your schools or a specific selection at the same time.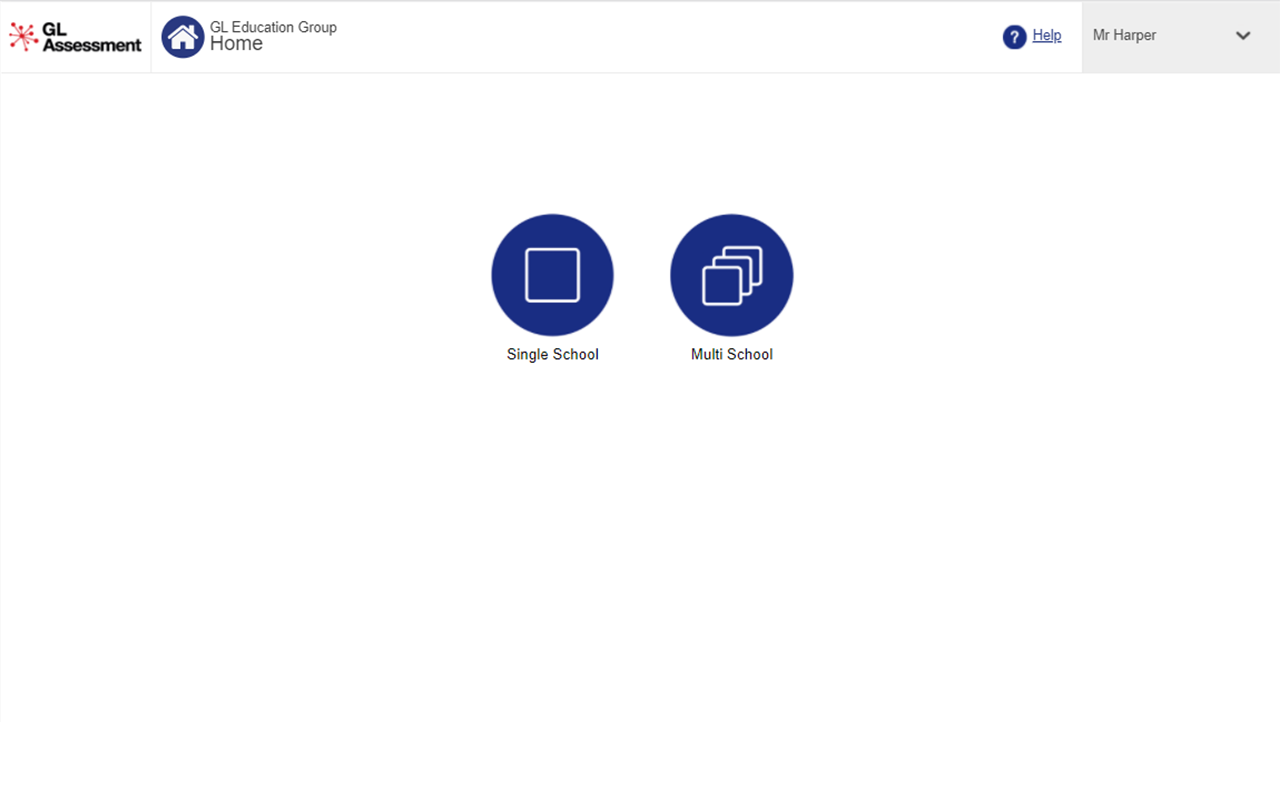 Like this, you can switch more easily between your schools, while managing and uploading students and data at a multi-school level.
See the changes in action
We've created three videos, demonstrating some of the benefits of the changes to Testwise!
Interactive reports overview
Getting started
How do I access the new Testwise site?
The updated version of Testwise exists on a different URL: www.testwise.com
Please note that students must access testwise through the above URL, so when entering in access codes they should visit www.testwise.com/platform/code
You will find all assessments, except Exact, on this URL. If you wish to test with Exact, please head to www.testingforschools.com 
The first time you log in to the updated version of Testwise you will be required to reset your password. Simply click the 'Forgotten Password' link on the login page to reset your password.

Has all my data moved with the update?
Yes, all existing user data has been moved automatically with the new update. If you have any problems of queries, please do get in contact with us at [email protected]
Will I be able to run reports for sittings taken before the update?
Yes. All previous unarchived reports are still available and you will be able to create new reports for sittings taken before the update.
Where can I find Exact?
If you are testing with Exact, you will continue to access the assessment through the same URL: www.testingforschools.com
Is there any training available for the new Testwise?
Our live demos and webinars have now finished. If you still require assistance using the new Testwise please get in touch using the contact details below. 
I have a question about the update - who can I talk to?
If you have any queries, we recommend speaking to your account manager or dropping us an email on [email protected] if you're from a UK or ROI school, or [email protected] if you teach at an international school.
FAQs
What URL should I use for testing?
You will find all assessments, except Exact, on www.testwise.com. If you wish to test with Exact you should continue to use the original URL: www.testingforschools.com. Please note that all access codes generated from the 13 December will have the new URL for pupils to follow. Codes generated before this date will still work, but only on the new URL. Please make test administrators aware of this before entering any student access code developed before 13 December.
Will my access codes still work if I generated them before 13th December?
Yes, but please make sure all pupils use www.testwise.com to enter the test lobby, unless they are testing with Exact in which case they will continue to use www.testingforschools.com. Access codes generated in your upgraded Testwise account will have the new URL for pupils to follow. Codes generated before 13th December will have the previous URL. Please make test administrators aware of the new URL before entering the access code.
Will my password work on www.testwise.com?
No, you will need to reset your password by clicking the 'Forgotten Password' button. If you cannot access the email associated with your account, you will need to contact GL Technical Support on [email protected]
Do I need to maintain student data on www.testwise.com and www.testingforschools.com?
The two platforms are not linked. Therefore, if you are using Exact, you will need to continue to maintain your student information for Exact only on www.testingforschools.com. For any other assessments, you will find all your student data on www.testwise.com.
I can see 4 import/export options now, but there were only 2 before – Why is this?
We have made changes to the student data in the new system, with additional fields and some naming changes. If your school will find it difficult to manage the data field changes for any reason, the legacy templates will allow you to use the data exactly as it was before migration. Additionally, the import/export can be done via Excel as well as CSV now.
I am a cluster group user and I have noticed some changes to Testwise? Can you explain the changes you have made?
The changes to Testwise are built to improve the user experience for multi-school users. Rather than adapting single school functions and trying to make them work for cluster users, we have developed dedicated multi-school user screens. These will develop as time goes on and your feedback will be really helpful in continuing to improve these part of Testwise.
What is a HTML / Interactive report?
HTML or interactive reporting is one of the new features on our Testwise online platform. Interactive reporting makes it easier for more staff in the school to access customised data that is meaningful to them and the students they teach. For example, you will now be able to create dynamic and customisable reports instantly, rather than having to create and share static PDF reports. Currently, these reports are available for the Independent Student Report for Teachers (ISRT) and the Group Report for Teachers (GRT) reports. They are available for all assessments with the exception of Progress Test English (PTE), Progress Test Science (PTS), the New Group Reading Test (NGRT), and the Dyslexia Screeners. These should be available during the early part of 2022.
Can I still generate my PDF reports?
Yes, this functionality remains the same as the previous version of Testwise. If your report defaults to 'Interactive', you can still generate a PDF version using the button in the top right hand corner of the online report.
Why can't I archive my reports any more?
The 'Archive' option has been removed and replaced with 'Delete'. If you wish to reduce the list of reports, you can save them locally and / or delete them. If you later need that report, the inclusion of historical date selection in the routes to reporting means you can re-run any historical reports.
I have some feedback on improvements for Testwise. How should I communicate it to you?
We would be delighted to receive feedback so we can continue to improve the service we offer you. You can do this by contacting [email protected]. You can also get in touch with your dedicated Account Manager.