When to test with PTE
Annual administration
The test should be administered towards the end of the year, preferably in the third term (UK spring/summer term) as this was when the test was originally standardised and when students should have learned the content covered in the assessment. 
The Annual Administration table shows which level of test should be used for schools choosing this option.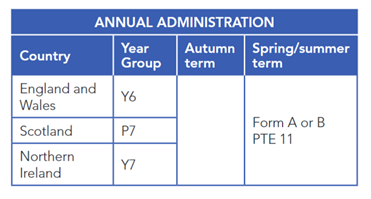 PTE 11T is an additional test for students aged between 11 and 12 years, which can be used as a transition test on entry to secondary education. It is designed to be administered specifically during the first part of the first year of secondary school. It is based on primary English curricula so that students at the start of their secondary education can be assessed. PTE 11T can help create a baseline for students at the beginning of secondary/post-primary phase. PTE 12 may be administered in the spring or summer terms.
For students aged 7 to 11 years, Progress in Writing tasks are available separately to provide information about attainment in writing.
Twice yearly administration
The Twice Yearly Administration table shows you which level of test should be taken in the first term (UK autumn term) and then the following third term (UK spring/summer term).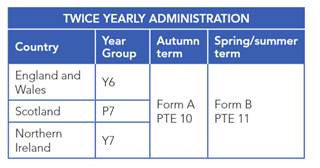 NOTE: As explained in Choosing a test type and level, if PTE is being administered in the first term of the school year, the test from the year below should be administered as students are unlikely to have covered enough of the curriculum to be able to take the age-appropriate test.