Poor auditory-verbal memory
Background
Ffyon is a girl aged 11 years 7 months who was tested with LASS on entry to secondary school, as part of the school's routine assessment programme for the new intake, the results being shown in Figure 10. Her primary school record showed no evidence of difficulties. 
Interpretation of LASS 11-15 results
The scores show that Ffyon is of average ability and is in the average range for reading and spelling. However, what is really striking about her profile is the very good visual memory (Cave; centile 82) and very poor auditory-verbal memory (Mobile; centile 7). Not surprisingly, she has had difficulty in acquiring phonic skills, which shows in her poor Nonwords score of centile 13. In fact, her profile is consistent with a diagnosis of dyslexia. Her visual memory strengths have obviously been compensating for lack of phonic skills, and she has tended to use whole-word visual strategies when reading. Until recently, that approach has obviously been adequate to her needs, but decline in reading ability and school performance would be predicted unless specific help is provided to enable Ffyon to develop better phonic skills. 
Figure 10. Ffyon – a case of poor auditory-verbal memory.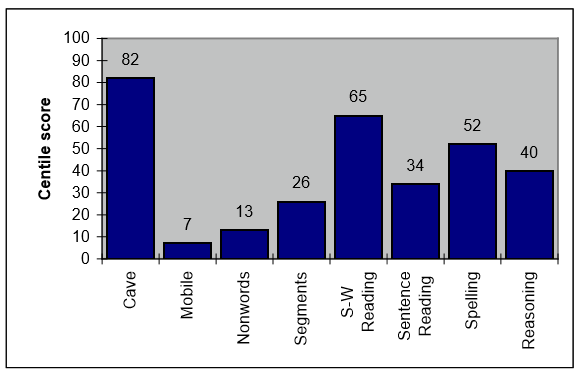 Educational recommendations
Based on the LASS results, the school placed Ffyon on the SEN register at Stage 1, and instigated a programme of phonics training twice each week in a small group of SEN students. During her lunch break each day, Ffyon attended a computer club at which she could practice her phonic skills using AcceleRead, AcceleWrite and Wordshark4. One of the learning support teachers provides weekly activities using Mastering Memory, to help Ffyon improve her weak auditory memory.