Partially compensated dyslexia
Background
Colm is a boy of 12 years 5 months, who was referred for assessment with LASS 11-15 because of persistent spelling difficulties. 
Figure 7. Colm – a case of partially compensated dyslexia.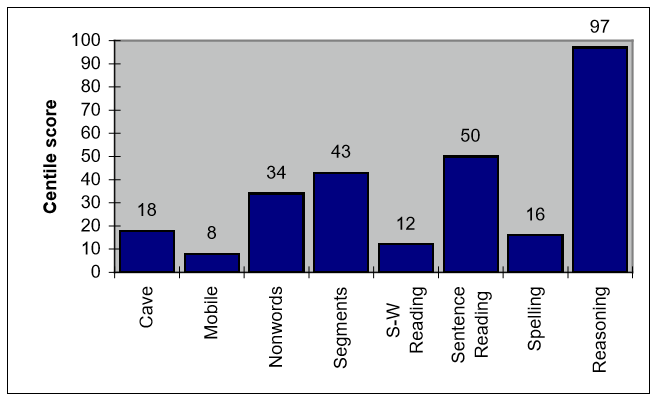 Interpretation of LASS 11-15 results
Colm is obviously very bright (Reasoning: centile 97), with average reading skills in context (Sentence Reading: centile 50) but poor Single Word Reading (centile 12) and Spelling (centile 16). This discrepancy clearly justifies the label 'specific learning difficulties'. His phonological skills are satisfactory (Segments: centile 43) and he can cope fairly well with Nonwords (centile 34), suggesting that he has absorbed some phonics knowledge. Nevertheless, the clear evidence of memory weaknesses (Cave: centile 18; Mobile: centile 8) strongly suggests quite serious dyslexia. His high intelligence enables him to compensate for his difficulties to a certain extent (e.g. in prose reading) but he will definitely require further support otherwise he is likely to under perform in many areas of the curriculum. 
Debriefing
Subsequent enquiries with Colm's parents revealed that Colm had received some specialist tuition, focusing on phonic skills, when he was at primary school. However, since this was from a private tutor, it had not appeared on his school records. It was decided by the school's SENCo that because of Colm's memory difficulties he needed tuition in study skills, especially organisation of work and essays. There were worries that unless he was prepared well in advance for GCSE examinations, his attainment would fall far short of his potential. He was given help to develop mind-mapping techniques and a range of IT support strategies was implemented, including use of a talking word processor, word prediction and good spell-checking facilities (textHELP! Read&Write 9, ClaroRead or Ginger Software).