CAT4 reports
A range of CAT4 reports has been developed following extensive market research and feedback to ensure that new reports are clearly focused on specific audiences.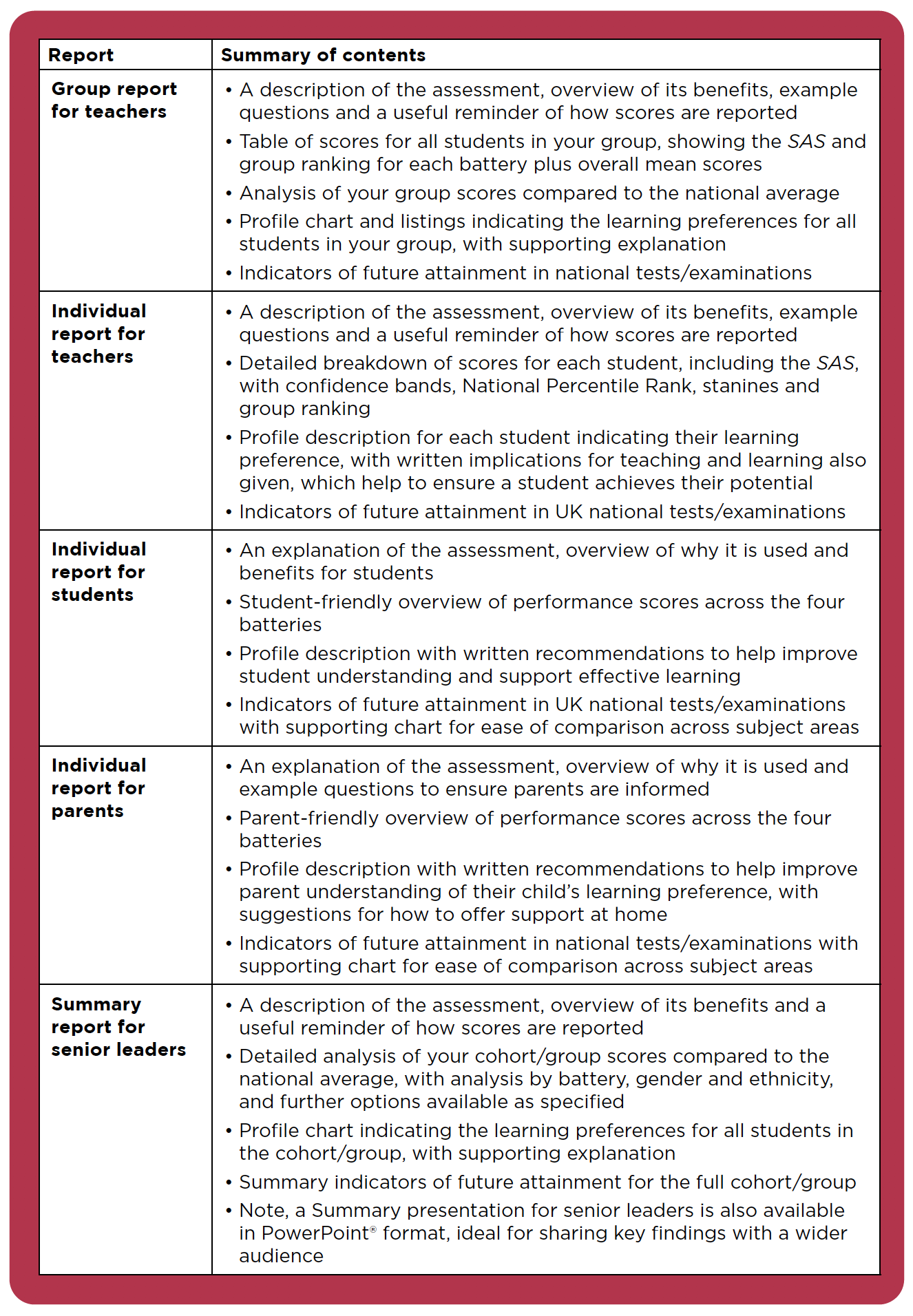 A CSV or Excel report which gives all raw/core data is available and will enable further analysis of results. A cluster report is available, based on the Summary report for senior leaders, which brings together the results from more than one school or an entire local authority, as required.
New report samples will be posted on the CAT4 website.
Further reports are under development and will include those to help teachers working with students with additional needs or with very able students, as well as subject leaders. As soon as these reports are available, samples will be posted on the CAT4 website.
Schools that use both our ability and attainment assessments can have access to a free report that compares their attainment data to the ability data from the Cognitive Abilities Test (CAT4). Our ability test plays a vital role when trying to identify underachievers, or those not fulfilling their potential, and when combined with attainment data and professional teacher judgement, it provides a well-rounded picture of each individual student.
The CAT4 Combination report takes data on pupil ability from the Cognitive Abilities Test, 4th Edition (CAT4) and on attainment from the Progress Test in Maths (PTM) and Progress Test in English (PTE). It can also include data on reading from the New Group Reading Test (NGRT), as an alternative to Progress Test in English. A number of test combinations are possible (see below), but CAT4 is always present, acting as an 'anchor' for the report.

What do I get out of the CAT4 Combination report?
By comparing these results, attainment is seen in the context of each student's ability and potential. With this you can identify:
Potential underachievers
Where attainment is broadly in line with ability
Where pupils appear to be attaining at a level that is higher than their potential suggests
Potential SEN and underpin intervention with these test data and comparing them with the school's own information and knowledge of a student.
What can I do with the data?
Correlate students' performance in CAT4 – specifically the verbal reasoning and quantitative reasoning batteries – with attainment demonstrated through PTM, PTE and/or NGRT
Identify whether the relationship between ability and attainment is as expected or whether there is a significant divergence in scores which may need further investigation
Compare performance using the national benchmark – standard age score – which allows for accurate comparisons to be made across different tests
Deepen the understanding of your pupils' current and potential performance; enhancing a 'whole pupil view' of each child
Compare pupils with the national average for their age.
Note: Combination reports are currently not available for the Irish version of CAT4.